Ever felt the pressure of choosing a stream? Some of us were often sidelined with Science stream. This was either because the school only offered this stream or parents forced you to choose this stream. In India, some parents have started to be flexible with student's choices. However, a huge chunk of parents is still under the assumption that only Science can lead to high-paying jobs. Moreover, the "Doctor-Engineer" craze continues to haunt the students.
Before reading this article, let's analyze why Indian parents prefer Science. Science stream is often seen as a sign of intelligence. The moment the student scores well in boards, parents try to persuade them to choose Science. A false impression has been created by the society that Science is for smart people, while Arts and Commerce are for those who don't study well. Most importantly, students aren't encouraged to take up other streams apart from Science. The lack of awareness of streams has been the main reason parents think Science is better than other streams.
If students don't choose the stream of their parents choice, they are often traumatized with the emotional baggage that comes with it. Parents look at them with disgust and ridicule their choice. Some even go to the extent of crying and insulting their children. The society will join them too, often putting more pressure on the students. At this stage, students have no option but to choose what their parents want them to. To save such students, a DMIT test can help bring a balance between the parents and children. DMIT can be evidence that students can use to prove that their choice is right and important. This article will talk about different streams, choosing the right stream and the importance of DMIT.
Different Streams offered by Schools/Colleges:
The three main streams offered by most of the schools and colleges in India are Science, Arts and Commerce. Most of us know about these streams, but not in detail. Apart from Science, Arts and Commerce have jobs that have the same level of doctors and engineers. Some of these jobs also have a higher pay grade. Let's analyze different streams, their pros and cons, subjects they offer and probable jobs they can opt for.
Science:
Though Science has been dominant and preferred by Indian Parents, it doesn't mean that it's a bad stream. For those who like science, will enjoy science. For example, if you like studying about stars or machines, Science is the right stream to choose. Under Science, there are different branches, namely Physics, Chemistry and Biology. Variants like Biotechnology and Biochemistry also come under Science.
The main subjects students study under Science include Physics, Chemistry and Biology. Moreover, knowledge of mathematics will be required to understand certain concepts. But it majorly depends on the student. If the student is fond of computers, he or she can opt for computer science. But keep in mind that analytical skills will be required later on. Now let's check into a broad perspective of different courses related to Science.
Pros choosing Science:
Choosing Science isn't bad at all. If you have the required skills and interests, Science can be a good choice. If you genuinely like analysing the world around you, ask questions related to whatever you see, Science can help you figure out answers. Science can help you grow and make discoveries. And most importantly, you can do most of the jobs if you choose Science. Science has various paths and perspectives.
Science can help you grow. If you want to help or cure someone, Science can help you with it. With everyday life, Science can help you figure out the problems like fixing bulbs, setting up PC, understand the working of wires and more. In conclusion, for those who like to think, analyze and strengthen their scientific knowledge, Science can be a good option for such students. Science will not die immediately. It will be a constant stream throughout our lives.
Cons choosing Science:
Science will not be a good option for those who like being creative. Moreover, the Indian Education System has given such importance to Science that it has become a highly competitive field. To achieve something like getting into a good college, you need to go through various entrance exams and interviews. If you do not like Science, these exams can take a toll on your mental health.
There will be a tremendous change in your lifestyle. Since Science is a developing field, students have to study vast information related to it. Students can take hours to grasp concepts. If Science is taught by irresponsible people or college, they have to struggle more to study independently. If you like studying Science based on interest, it will be up to your liking. Or else, it can be a nightmare for students.
For those who are still confused about career, you can choose Science after 10th, since Science can help you jump to other streams. However keep in mind that if Science is not up to your liking, you can change your stream after 12th. Whatever decisions you make after 12th will be final. So take these two years to figure out what you like and act accordingly. But if you want to save these two years instead of wasting them on Science, go for a DMIT test to understand what career you will fare in.
Jobs related to Science:
These are some of the most common jobs related to Science:
Doctor – Medical, Homeopathy, Ayurveda, Dental and more.
Engineer – Mechanical, Electrical, Robotic, Civil, Biochemical, Software
Biologist – Aquatic, Marine, Wildlife
Chemist
Computer Programmer/Developer
Scientist
Architect
Technician
Physicist
Electrician
Science Teacher/Professor
Commerce:
Commerce has now become popular due to the opportunities and the rise of jobs in the market. If students are good with numbers and have interests in finances, they can go for Commerce. Some of the subjects student have to study include Accountancy, Finance, Business Studies and Economics. Commerce will also help in marketing and understand the process between the client/manufactured and the customer.
If you like studying concepts mentioned above, Commerce can be an ideal choice for students. The pay grade can be similar or even higher than Science-related jobs, depending on what you choose. A lot of companies in the market recently have opened doors for various Commerce-related jobs, which are both high paying and satisfactory.
Pros choosing Commerce:
If you like numbers and concepts related to it, Commerce can be an ideal choice. Commerce can help identify errors in business practices, rectify them for more sales in the company. Marketing is another aspect related to commerce. If you want to develop the economic development of a country, Commerce can help in doing that. While Science-related individuals make products, Commerce-related individuals sell them. In a way, Science and Commerce have to co-exist for better productivity and sales.
If students like to do business or handle business, Commerce can reshape them with various paths and opportunities. Various Commerce-related platforms exist to help freshers make a mark in the industry.
Cons choosing Commerce:
Commerce can be ideal if and only if students are good in numbers. It can be detrimental for students weak in analysing business and have the poor ability in calculations. Moreover, choosing Commerce is in 10th will put a barrier to Science courses; that is, you can only do jobs related to Commerce or Arts. Some people choose Commerce for the sake of it. Like they have an attitude such "Since I didn't get Science, I chose Commerce." This attitude can prevent students from taking the subject seriously. This is the main reason why DMIT tests are important so that students can avoid such conflicts.
Only few colleges offer Commerce. As mentioned, there are some colleges that handle these subjects irresponsibly. Will Commerce be there in the longer run? Due to the rise of automated machines that can do calculations, Commerce can be diminished. But that doesn't mean it will end abruptly. Students can safely opt for commerce since it will continue to stay for another ten to twenty years.
Jobs related to Commerce:
These are some of the most common jobs related to Commerce:
Chartered Accountant
Cost Accountant
Business Manager
Retail Manager
Financial Analyst
Investment Banker
Tax Accountant
Finance Manager
Marketing Co-Ordinator
Business Analyst
Operations Executive
HR Manager
Data Analyst
Arts:
Arts is often not encouraged in the Indian Society. There is a wrong notion created in such individuals that Arts/Humanities will not lead to high-paying jobs. But on the contrary, Arts can lead to unique jobs that can be both high-paying and satisfactory. Half the famous people we see around are related to the Arts field. Talk about actors, musicians, historians, artists and designers- all hail from the arts background.
If you like studying history, psychology, sociology or geography, arts can be ideal for you. Moreover, dance, drama and music are related to Arts. Arts will continue to grow due to the existence of creativity in individuals.
Pros choosing Arts:
For those who think creatively or want to study about the past, arts can be a great choice. Similarly, if you like studying law and advocating human rights, arts can help you achieve that. Designing aspects can also be related to Arts. Moreover, it can bring out the best in individuals. Every movie you see, every song you listen to are the work of individuals hailing from the arts background. Arts offer a variety of jobs that can help individuals utilize their talents.
Doing arts at such a young age can boost confidence and help them achieve something great in their future. For example, receiving the knowledge of music, in the beginning, can help individuals compose their new tracks, keeping in mind the genre. Arts has many opportunities to offer, but it depends on how you utilize them. In conclusion, Arts is equally as important as Science and Commerce. It cannot be treated as the last option.
Cons choosing Arts:
Arts can be a good field for everyone, only if you have such skills for it. DMIT test can help you understand your skills so that you can choose the Arts stream without hesitation. Arts have a lot of subjects that require studying thoroughly. Subjects like History and Civics require a lot of studying and remembering various dates. For that, a good memory is required. For those who struggle with remembering can find these subjects difficult.
If you choose arts, you need to reshape your talents. If you want to become a painter, make sure that you have skills in painting. Similarly, if you don't analyze your talents properly, you can lead to jobs that will make you unhappy. However, Arts will continue to stay in the upcoming years. But future of Arts can be uncertain due to the evolution of automation. Due to this scenario, some jobs might stay, while some might cease to exist.
Jobs related to Arts:
These are some of the most common jobs related to Arts:
Art Teacher
Animator
Graphics Designer
Makeup Artist
Actor
Dancer
Painter
Art Teacher
Illustrator
Fashion Designer
Creative Director
Film Director
Psychologist
Historian
Lawyer/Law-related jobs
Activist
Content Writer
Choosing the Right Stream – Student's Perspective:
If you're a student reading this, please make sure that you choose the right stream out of your preference, not your parent's. The future will be on what you decide. So decide based on what you like. All the streams offered are good, no doubt. But how you approach the stream matters a lot.
If you still struggle in finding the right stream, think over these questions.
What do you want to achieve in life?
What do you like to do everyday, in other words, your hobbies?
Do you have a dream about being someone?
What subjects are you good at?
Do you have an intention of making the world a better place? If then, how so?
Now try to find the answers and relate each question accordingly. If you manage to answer these questions and find the right stream based on your answers, choose that stream. Moreover, listen to your heart and follow your passion. Never let the society decide your life. If you still struggle to choose the right stream, then don't worry. Go for DMIT tests which will be explained in the later section. DMIT has helped students clear their doubts and help them achieve success in the careers they choose.
Choosing the Right Stream – Parent's Perspective:
What do you value more, your children's future or happiness? If you're a parent reading this article, please ponder over this question. By setting a future for your children by not letting them choose their way, does that make you a good parent? Parents can give advice, but the students should make the final decision. Now let's analyse why parents choose the stream for their children, not giving them a say in this matter.
A lot of parents didn't have the privilege of studying in good schools, unlike their children. They want their children to reach a high position with a well-paying job. A well-paying job brings respect to the family. Parents think the future of their children will be secured if they choose respectable careers. In India, being a doctor or engineer are considered respectable jobs. Parents throw in a lot of money to educate their children based on these careers. All these so that they can earn some respect in the society.
But what most of the parents fail to understand what their children are going through. Children aren't objects. They are humans too. They have their own choice and aspirations. By forcing them to choose a stream, you are killing your child's dreams and talents. A high-paying job doesn't guarantee happiness. It might satisfy your ego and make you proud, but you've failed as a parent.
A good parent will let their children do whatever they want to make them happy. Parents must be moderators, not decision-makers. Lay them the path, talk to them, understand their choices and suggest them different streams they are genuinely good at. Also, be more open-minded and understand why your children want to take up their choice of stream.
Understanding DMIT:
For those who are unable to make decisions, make the use of DMIT. Many are unaware of DMIT full form. The DMIT full form is Dermatoglyphics Multiple Intelligence Test. This test can derive results based on fingerprints. If you opt for good DMIT software, a fingerprint analysis can lead to accurate results in an individual. These results include factors such as Multiple Intelligence, Personality, Quotients and Inborn Potential.
Based on these factors, DMIT Counselling can be highly advantageous for students. A lot of parents these days force their children to choose the wrong path. They fail to understand their child's skills and talents, forcing them to choose a particular career. If you belong to a conservative society, there arise situations where parents blindly follow other people's ideology of career. To end this ideology and misconceptions, DMIT can help students and parents understand each other.
Why DMIT?
Recently, the emergence of DMIT test has helped many individuals. DMIT test helps the individual know their inborn potential. DMIT test leads to analysis and identifying the personality of a person. If you are unaware of DMIT test, please read our blog about it. However, to avoid uncertainty, let's discuss the basic overview of DMIT.
DMIT test is useful for any age group. It will help anyone to analyse themselves and learn more about their capabilities. Eventually, DMIT test can help you build a career path based on your interests. Organisations can opt for DMIT test software to analyse their employees. Schools can also opt for DMIT test software to understand student's potential and skills. DMIT test software can be a handy tool for counsellors. It helps them in career counselling. DMIT tests have proved to be accurate and efficient in many individuals.
As mentioned in the previous blogs, please do not go for free DMIT test online. There are free DMIT Test Online that has outdated algorithms. Free DMIT Test Online is inaccurate. Some websites offer 'DMIT Software Free Download', including 'DMIT Software Full Crack'. DMIT Software Free Download has a truckload of malware. DMIT Software Full Crack isn't the ideal way for tests. There are many disadvantages based on DMIT Software Free Download. Instead of downloading DMIT Software full crack versions, it is advisable to purchase the software from legal distributors, like this DMIT website. Always remember, say no to DMIT Software free download and DMIT Software full crack. Free DMIT test online might seem enticing, but please go for DMIT websites that are certified and legal.
Benefits of DMIT:
The number of benefits of DMIT are enormous. Let's look into some benefits what a good DMIT test software offers.
A DMIT test helps in finding the strengths and weaknesses of the individuals.
A DMIT test relies on the concept of multiple intelligences of an individual.
DMIT test software can analyse which part of the brain has more dominance.
DMIT test helps in determining the personality of an individual.
A DMIT test can also tell which brain lobes function in a better way.
DMIT test determines in knowing Emotional Quotient, Intelligence Quotient, Creative Quotient and Adversity Quotient.
If you struggle to know your worth and talents, a DMIT test can be useful.
DMIT test can help in marriage counselling, helping you find the right person based on your personality.
DMIT test helps in career counselling, helping you find the right career path and profession.
Also, DMIT test can help you live a good lifestyle and adapt to studying styles based on the results.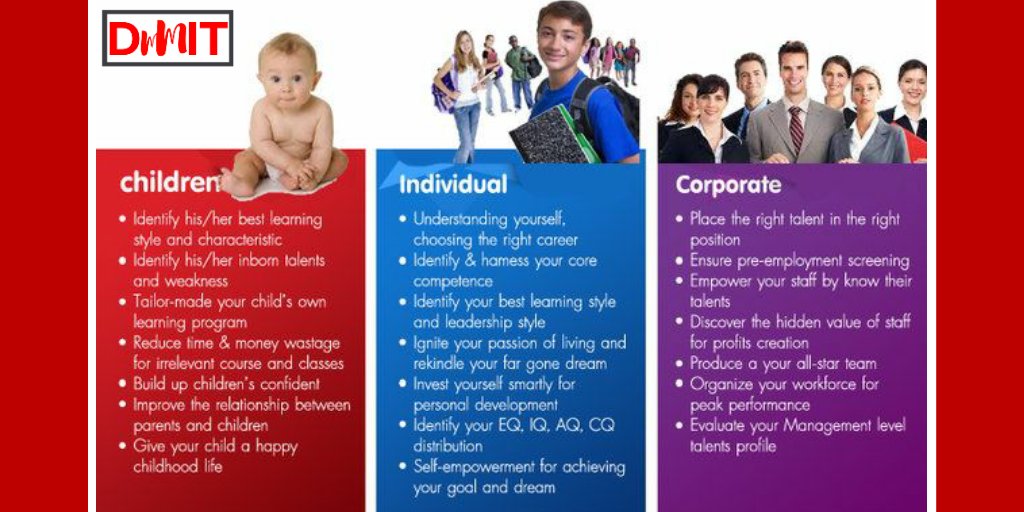 Why Mastermind Group offers the best DMIT in India:
Mastermind Group is a registered DMIT company under the Government of India. They are one of the few companies that have IEC code to do business with foreign countries. Mastermind Group has been offering DMIT Franchise, DMIT software, Midbrain Activation Software, and various software for 5 years now, making us the best DMIT company in India.
If you're looking for good DMIT Counselling, Mastermind Group offers various plans for the same. These plans are designed in such a way that they are beneficial to individuals. Mastermind Group has experience working with various retail DMITs. Moreover, Mastermind Group also has a technology to make the procedures user-friendly. This includes a mobile application, website, blogs to update you about DMIT and good customer support to help you with your queries.
Mastermind Group also conducts workshops and training sessions for children to enhance their development. Mastermind Group also provide materials like PowerPoint presentations, training videos and research papers. Being one of the best DMIT company in India as well as worldwide, we serve our customers with the utmost importance and care.
If you like the blog, please do share and also comment if you have any queries. Please check our DMIT website to know about plans and details regarding DMIT Counselling. We at Mastermind Group are ready to help you in your ventures.
Looking for the Best Career Option? Mastermind Group DMIT Test helps you in finding one.