SCIENCE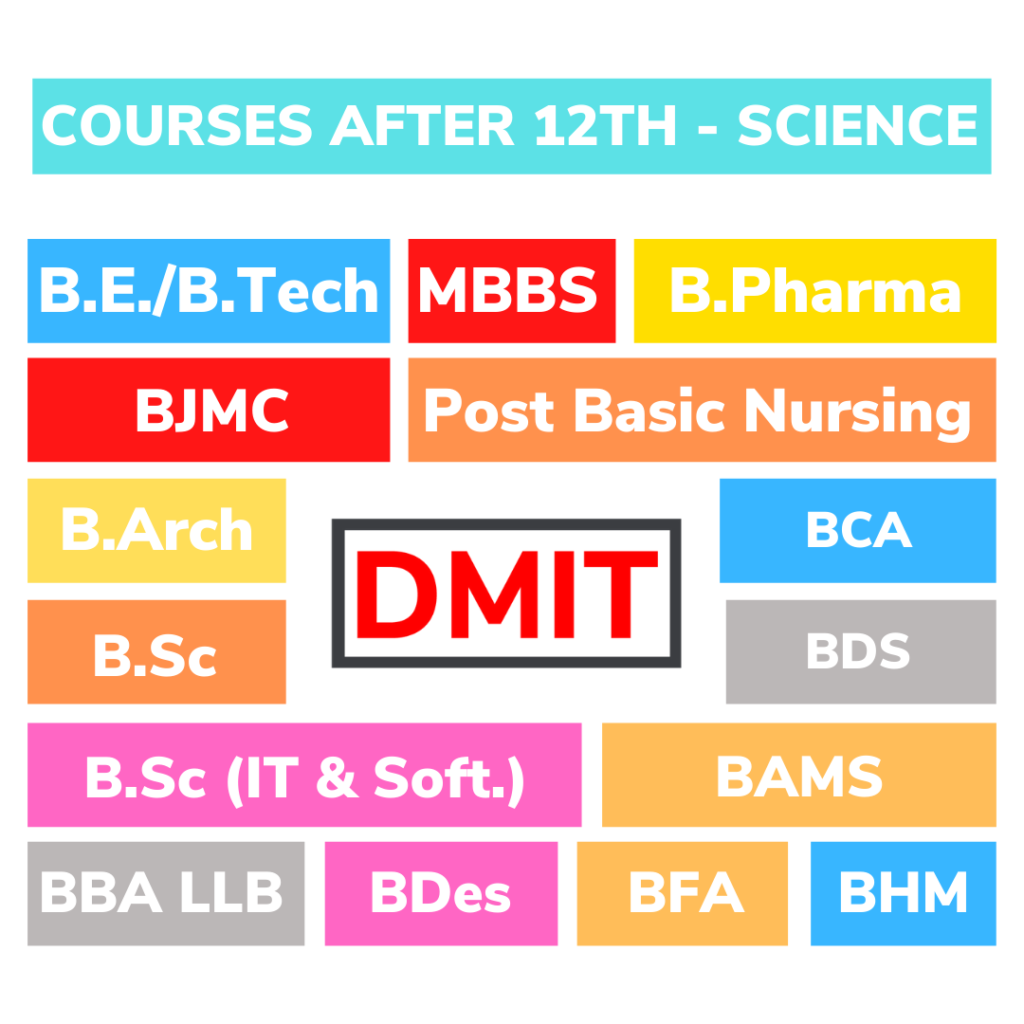 Science has been one of the most popular streams of study amongst students in 11th and 12th for reasons such as these:
It is the stream leading up to popular careers such as Engineering and Medicine
Science students can pursue further studies in Pure Sciences or Applied Sciences at Post Graduate levels.
There are several professional careers that require Science at 10+2 level, for instance, career as a Commercial Pilot.
One of the major benefits that Science students have over Arts and Commerce students is that they are eligible for almost all Science as well as non-Science career options. That is why, after passing 10+2 in Science, course selection at UG level becomes a major turning point to give direction to one's career. Thus, it must be an informed decision with a good understanding of the course and career one is opting for.
There is an array of courses for students who want to pursue science and related fields after 12th board. These include Engineering, MBBS which tops the list for most science aspirants. However, there are many other slightly non-conventional but unique programs that have high demand in the job market. It is important to have complete information on the availability of courses and then taking the proper time to think before opting for a particular course.
List of Career Options and Courses for Class 12th Science Students
Before we look at the details of all the courses avaialble to you, here is a snapshot of the most popular courses among 12th Science students:
B.E./B.Tech
MBBS
Bachelor of Architecture (BArch)
BSc
Bachelor of Computer Applications (BCA)
BSc (IT & Software)
Post Basic Nursing
Bachelor of Pharmacy (BPharma)
More Details of Popular Courses after Class 12th with PCM
Bachelor of Technology (BE/BTech)
BE (Bachelor of Engineering)/ BTech (Bachelor of Technology) is a professional undergraduate degree awarded after completing four years of academic study in the field of engineering. Universities offering other degrees along with engineering name their engineering degree as BE while institutes which offer professional courses like engineering name their engineering degree as BTech. To pursue a BE/BTech degree, aspirants must have completed their 10+2 with Physics, Chemistry and Mathematics along with securing a minimum aggregate of 50% at the HSC level.
Bachelor of Architecture (BArch)
Bachelor of Architecture (BArch) is a recognized undergrad programme for studying Architecture including spatial design, safety management, aesthetics, material management, art of planning, designing, and constructing buildings and other physical structures. A career in the field is attractive, well-paid, and offers lots of scope for professional growth. To pursue this degree, students must have passed 10+2 or equivalent with Mathematics with 50% marks in aggregate.
Bachelor in Computer Applications (IT and Software)
If you want to churn your career in the field of computer applications and have a keen interest in computers, then you should go for Bachelor in Computer Applications (BCA). It is a three year degree course concentrating primarily on programming languages. 10+2 in any stream with Mathematics and English as core subjects. Entrance tests are conducted in individual colleges for admission to BCA. You can further your career and do a MCA after your BCA to be at par with BTech degree holders.
Bachelor of Science (in Pure Sciences)
Bachelor of Science (B.Sc.) or B.S. is one of the most sought after degree programs after class 12. The course can be pursued both as a part-time or full-time program. It comprises physics, chemistry, economics, computer and mathematics. After the completion, one can pursue master degree or M.Sc, go for research or enroll in professional industry-oriented courses.
More Details of Popular Courses after Class 12th with PCB
Bachelor of Medicine and Bachelor of Surgery (MBBS)
One of the first options for students of Science with Biology at the 10+2 level is to pursue MBBS (Bachelor of Medicine and Bachelor of Surgery). It is the basic degree for an aspiring allopathic doctor. MBBS, as a career option, has huge scope in India and abroad. After completing your MBBS, you can specialize in fields like neurosurgery, psychiatry and orthopedics. The job industry is huge, you can work in a hospital or set up your own private clinic. Some of the important MBBS entrance exams are AIPMT, JIPMER and AIIMS.
Bachelor of Pharmacy (B. Pharma)
(B. Pharma) is a 4 year job-oriented undergrad program in Pharmacy education. Students interested in the medical field (other than practicing medicine as a doctor) can opt for this course after class 12th. Once completed one can take up the career of a Pharmacist and work in an array of industries related to the prescription, manufacture, and provision of medicines. The program offers intense knowledge of drugs and medicines, Pharmaceutical Engineering, Medicinal Chemistry, etc. Job opportunities are many in both the public and private sectors.
Post Basic BSc – Nursing
B.Sc. Nursing is a 4 years degree program and follows the syllabus prescribed by the INC (Indian Nursing Council), the body governing the feature of nursing education in our country. Hence while taking admission it is important to ensure that the institute is recognized by the INC. The program includes a comprehensive mix of classroom lectures and hands-on sessions. Many institutes have a merit-based admission process where marks scored by students in 10+2 board examination and/or relevant entrance tests (national, state or institute-wise) are taken into account.
BDS (Bachelor of Dental Surgery)
BDS (Bachelor of Dental Surgery) is a five -year undergraduate Dentistry course, including four years of study followed by one year of internship. In India, about 291 colleges including 39 run by the government and 252 in the private sector offer this program. After M.B.B.S., this is one of the top courses in the field of medicine.
Bachelor of Science in Nutrition
B.Sc. Nutrition or Bachelor of Science in Nutrition is an undergraduate Nutrition and Dietics course. B.Sc. Nutrition program provides students with a comprehensive education that merges the science of nutrition with a broader view of wellness, community and the environment. Nutrition also considers why people choose to eat the foods they do. Even after they have been advised that doing so may be unhealthy. The duration of the course is three years. The course is divided into six semesters. The course is an important and career orienting in nature that opens many jobs for the applicants after its completion.
Bachelor of Ayurvedic Medicine & Surgery (BAMS)
BAMS or Bachelor of Ayurvedic Medicine and Surgery is a 5.5 years long graduate degree in Ayurvedic science, a branch of alternative medicine. It is a method of natural cure for ailments. The basic eligibility for pursuing this course is that the students should have completed their Class 12 with Biology with atleast 45-50% from a recognized board. BAMS Admission Process is centralized and is based on the marks obtained in the NEET exam.
Bachelor of Homeopathic Medicine and Surgery
Bachelor of Homeopathic Medicine and Surgery or BHMS is a graduate degree program in homeopathy that covers the knowledge of homeopathic medicine. Upon completion of this degree, students are eligible to become doctors in the homeopathic medical domain. Nowadays, homeopathic medicine study is being preferred by many students wanting to pursue a career in medicines, when compared to other medical courses. The minimum eligibility for pursuing BHMS is X and XII qualifications from an approved educational board with Biology/Chemistry/Physics/English as the major subjects studied in class XII, with an aggregate score of at least 50 per cent. The minimum age limit prescribed is 17 years.
Bachelor of Physiotherapy
BPT is an undergraduate course which comes under the health sector which mainly focuses on the physical movements of the body to treat various health conditions. Bachelor of Physiotherapy course is a 4½ year degree with the last 6 months being a compulsory internship. A physiotherapist has been in demand for a very long time. As the number of sports activities increasing in India, demand for physiotherapists is also raising.
More Details of Courses after Class 12th with PCMB
A PCMB student has the advantage of choosing from a wide array of courses available for both PCM and PCB groups. PCMB students are eligible for all the courses that PCM and PCB students are eligible for, all of which have been mentioned above. A minimum aggregate of 60% at the HSC level is often a requirement. For certain courses, students must also have secured a minimum of 60% individually in Mathematics and Biology/Life Sciences.
Besides the courses mentioned above, Science students (whether PCM, PCB or PCMB) also have the option to opt for various Arts and Commerce courses. Some of those courses are mentioned below.
More Details of Arts Courses Available for Science Students
Bachelor of Journalism & Mass Communication (BJMC)
Bachelor of Journalism & Mass Communication (BJMC) is an undergraduate program that provides aspirants with knowledge about various journalistic skills in mass media such as newspapers, television, radio, internet etc. It also informs students about various technology, equipment and software involved in mass media. The duration of the course is three years and is divided into six equal semesters. In order to be eligible for the course aspirants need to clear Class XII in any discipline. BJMC is a right career choice for the aspirants who have always been curious and inquisitive about the issues and events happening around the world.
BHM in Hospitality & Travel
Bachelor of Hotel Management in Hospitality & Travel is also popularly commonly known as BHM in Hospitality & Travel. It is an undergraduate level Bachelor's Degree course. Students who have passed 12th standard (Arts, Commerce or Science) are eligible to pursue this course. The academic program is 3 years long. The course primarily deals with hotel management. It also deals with allied areas such as HR management, marketing, finance, communication skills etc.
BA LLB (5 year Integrated Programme)
BA LLB (Bachelor of Arts + Bachelor of Laws) is an integrated Law course offered at undergraduate level. Aspirants need to clear Class XII in any discipline with the minimum required percentage in order to be eligible for the course. The duration of BA LLB programme in Indian universities and colleges is typically five years.
BA in Humanities & Social Sciences
BA is a bachelor's degree in subjects related to Social Sciences, Liberal Arts and Fine Arts. One needs to have completed their 10+2 from Arts stream to pursue this course. However, Science and Commerce students are also eligible to pursue a BA degree.
Bachelor of Fine Arts (BFA)
BFA, or Bachelor of Fine Arts is a specialized 4 years undergraduate programme that has been designed to teach students the various aspects of visual and performing arts. The basic BFA eligibility is a minimum of 50% in Class 12 in any stream. A BFA course not only educates but reforms the skills of candidates to enable them become artists in their chosen field. These days many students are opting for a career in Fine Arts not only to earn high remuneration but also to gain popularity and prestige. Admissions are done through BFA Entrance Exams which are usually university and department level, having questions related to Art History, Visual & Design Knowledge and Art Skills.
Bachelor of Design (in Animation)
B.Design (Animation) or Bachelor of Design in Animation is an undergraduate Animation and Multimedia course. The course provides an opportunity for young artists to understand the nuances of animation and filmmaking. The course is designed to meet the growing industry requirements and train the students in what matters the most. Students are given training right from the basic traditional animation to the sophisticated 3D animation and filmmaking. The duration of the course is four years and after its completion, students have many scopes in various fields.
Bachelor of Design (BDes)
Bachelor of Design (BDes) is a professional undergraduate course of 4 years offering many specializations like Product Design, Fashion Design, Industrial Design, Textile Design, Fashion Communication etc. Basic BDes eligibility is the completion of Class XII with minimum of 50% in any stream or Diploma in Design. BDes course is perfect for students who are interested in studying and applying the theoretical and practical aspects of design elements in various fields. This degree aligns design techniques and skills with the latest technology for innovation and development.
More Details of Commerce Courses Available to Science Students
BCom (in Accounting and Commerce)
Bachelor of Commerce, also known as BCom/BCom (Hons) is an undergraduate degree that can be pursued by students who have cleared 10+2 in Science, Arts or Commerce stream. If you are no longer interested in Science and wish to do something else, you can also pursue a Bachelors in Commerce from any University. The duration of the course spans over a period of 3 years in Indian Colleges/Universities. You can also do a B.Com course through correspondence and simultaneously pursue a professional course like CA, CS or CMA.
BBA LLB (5 year integrated programme)
B.B.A. LL.B.(Hons.) Integrated is a five-year undergraduate program focusing on the study of commerce & business administration along with the in-depth study of law & legislature. The program is structured in a way to train students for the business world with expertise in corporate laws and regulatory affairs. A student who has qualified Senior Secondary (10+2) with a minimum of 50% marks is eligible for this course. 
---
IF YOU ARE LOOKING FOR DMIT SOFTWARE / DMIT BUSINESS / DMIT FRANCHISE / DMIT TRAINING / DMIT CERTIFICATE, CLICK HERE!